A well-paved driveway offers numerous benefits to the homeowner, from enhancing the value of property to improving the overall look of the home, thereby attracting the interest of potential buyers. The investment can also go a long way to ease drainage issues, so you don't have to worry about water pooling and dirt accumulation. Brick driveways in particular, are becoming increasingly popular with homeowners in the Greater Chicago Area as more people turn to creative alternatives to asphalt and concrete driveways. Below are 8 benefits of choosing a brick driveway in place of traditional asphalt driveway:
---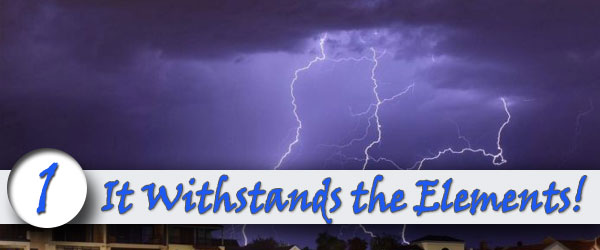 Brick driveway can withstand the elements
Bricks used in building the driveways can withstand incessant exposure to hot and cold weather and everything in between. This advantage, coupled by the distinct edge in looks and style means the brick can ride on its charm for many generations to come. Conversely, asphalt is not ideal in areas with hot or warm weather. When the material is exposed to hot temperatures for lengthy periods of time, it warps and becomes uneven, thereby damaging the driveway.
---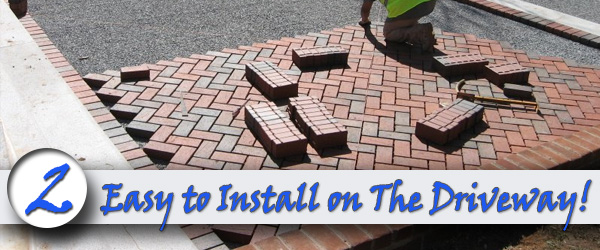 Bricks are easy to install on the driveway
The process of installing brick pavers on the driveway is usually quick and easy. A brick driveway can also be installed under any type of weather, come rain or shine. Once installed, the solid surface can be used immediately because there is no waiting period unlike in the case of asphalt. To install the latter, asphalt must be heated to about 170 degrees Celsius or thereabout to allow it to bond firmly to the surface. During the application period, asphalt must be covered with the right aggregate or sand. The entire process requires well trained and experienced installers along with an assortment of equipments, including graders, sand spreaders and paving equipments.
---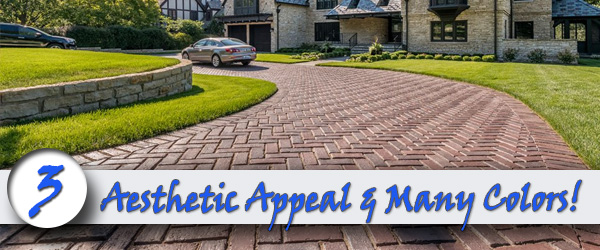 Bricks are available in different colors, thus enhancing the aesthetic appeal
Since brick driveways are not very common, making a switch to this unique, upstanding paving material will readily add character to your home. Bricks are able to retain their natural colors for many years because the dyes and other color pigmentation are never used in the construction process. Bricks pavers of varying colors are mostly made from heat cured clay and modeled to different shapes.
This gives the homeowners a wide option of colors and texture. The entrapping good looks exude by brick pavers can also go a long way to complement the home, and this is also the reason why some homeowners dumping asphalt and the traditional bland concrete driveway. As a matter of fact, the availability of brick pavers of colors and shapes, allows the homeowner to build the driveway in a manner that truly matches their landscape, personality and design taste.
---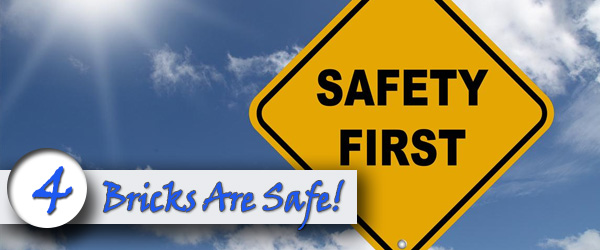 Bricks are safe
Brick made driveways are skid, slip and stain resistant, a character that makes them a far safer paving material than asphalt. Bricks pavers are naturally slip resistant because of their textured and often abrasive texture, which keeps them firmly held on the ground. In case a section of your driveway is stained, all you need to do is replace the particular stained paver to give it a newer look. Asphalt is known to break down by melting and softening, especially under hot weather, and this can cause easily skidding and ultimately driveway damage.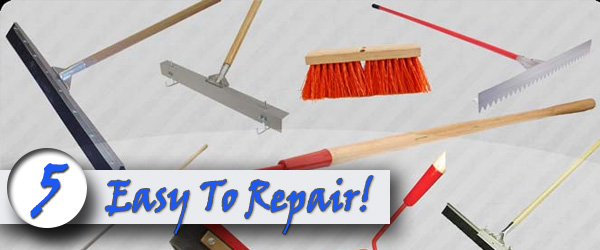 Brick driveway is easy to repair
The whole process of replacing brick pavers is easy because you simply need to remove the damaged brick paver, before applying the right grout concentrate to get the work done and dusted. The ease of repair rightly makes the choice of a brick driveway more cost effective in the long run. Although asphalt is also easy to fix, you need to have the right technical know-how and get the right mix to competently perform the repair work. The complete process involves cleaning the driveway, filling up the cracks, readying the resurfacer and finally applying the asphalt. One of the most expensive and must have asphalt repair component is the sealer.
---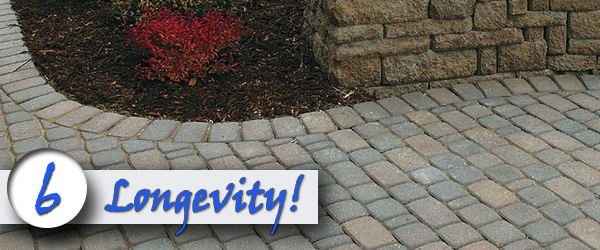 Brick driveways have a reputation for longevity
Because they are extremely durable and long lasting, industry statistics indicate that a brick driveway can last up to 25 years or more. Owing to this assessment, a growing number of contractors and construction companies in Chicago are turning to brick pavers to construct roads and walkways. Brick driveways are also known to adjust well to minor shifting of the ground while maintaining their interlocking outline. Unlike bricks, driveways made from asphalt and concrete driveway are likely to crack open when exposed to ground shifting and settling adjustments.
---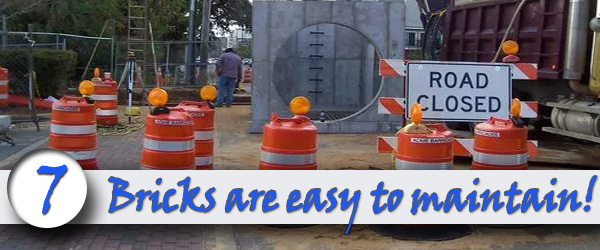 Bricks are easy to maintain
The asphalt driveway requires more maintenance compared to its counterparts, the brick and concrete driveways. Going by remodeling statistics, a typical asphalt driveway will require resealing once after every 3 to 4 years in order to prevent cracking. In addition, the sealer must sit for between 2 to 3 days when performing repairs before you can drive your car over the surface. The brick driveway on its part is very easy to maintain because there is little else to do to ensure its structural integrity is maintained after the installation. If the driveway is stained with oil or hard to remove stains, you simply need a pressure washer, soap and brush to clean and get it back to form.
---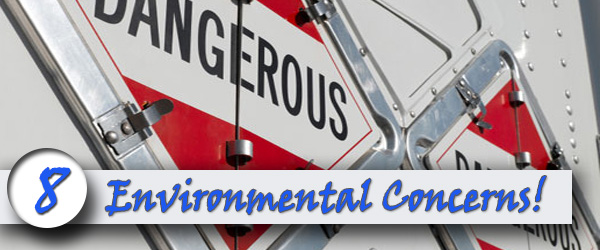 Asphalt has numerous environmental concerns
A brick driveway offers an environmentally friendly approach to paving. The materials used in construction can easily be reused or preserved for other projects when a driveway replacement is undertaken. Asphalt is made from a mixture of petroleum products in a process that involves the release of harmful hydrocarbons, which cause air and water pollution. Asphalt driveways and car parks also contain coal tar and asphalt cement, which is made from highly flammable cutback asphalt. Occupational exposure to coal tar is known to increase the risk of contracting illnesses such as skin cancer and digestive tract cancer.