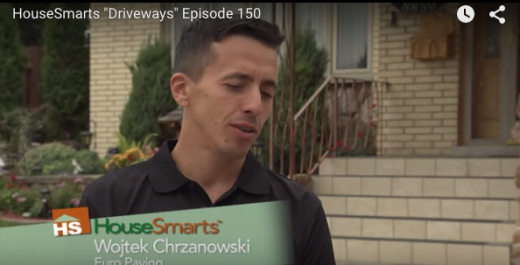 Euro Paving is thrilled to announce that we've been featured in a recent episode of the home improvement television series HouseSmarts! Primarily hosted by expert Lou Manfredini. Wojtek Chrzanowski, enteres the interview stage at 3:00.
A man well known for his experience as a contractor and broadcaster for WGN Radio and NBC's Today Show, HouseSmarts is a 30-minute, entertaining and info-packed show that offers homeowners valuable insight into home improvement project options and process with great visuals and narrations from start to finish.
HouseSmarts TV presenter Andrea Darlas caught up with Euro Paving's Wojtek Chrzanowski to have a quick chat about the process and benefits of brick paving in the "driveways" segment of their new episode.
In the piece, Chrzanowski introduces viewers to the many aesthetic benefits of using bricks/pavers for a driveway, explaining that customers can find a wide variety of shapes and patterns for endless custom design possibilities.
When pressed to describe how well the pavers hold up in extreme weather, he also explains to Darlas how a brick-paved driveway requires slightly greater care and protection from the elements in exchange for the classy look. Specifically, he says, homeowners opting for pavers should be careful about using just any old salt product to clear up ice and snow in the winter, and seek out a special type of salt that is actually less problematic.
In addition, Chrzanowski tells viewers, it's best to use a snow-blower in the winter as opposed to a potentially damaging shovel or plow. To finish up the look, he suggests the use of something like a sealant or a polymeric sand to protect the pavers, keep the driveway together nicely and prevent the growth of weeds between the cracks.
Darlas points out that brick paver installation may take a bit more time than your traditional basic blacktop, which the segment makes clear is due not only to the painstaking nature of placing the pavers, but also to the level of care taken to ensure a solid, properly layered and compacted base of gravel (about 12-18 inches) and smooth sand upon which the pavers can be confidently placed. Throughout the footage, the high-end beauty of pavers and the quality of our work are not lost on the HouseSmarts TV camera crew, as our segment of the episode features wide, sweeping views of beautiful, previously-completed Euro Paving projects.
We take our status as newly-minted TV stars as a huge accomplishment, as we strive to stand out as a leader in the paving industry and provide the best expertise, product and customer service to our clients.
Our episode of HouseSmarts is episode #150 in the series, and can be seen on public television stations across the country, including Chicago's own WGN and northwest Illinois' WQAD. Clips from current episodes (including the one in which Euro Paving is featured) can also be seen on HouseSmarts' website, HouseSmartsTV.com.
Since 2006, Euro Paving has been providing the Chicago, IL area with incredible brick paving talent and design for driveways, sidewalks, patios and retaining walls.
All of our work is backed by a lifetime guarantee on all materials, and we're even professionally authorized by our main supplier, Unilock.