Although installing a brick sidewalk might do a lot for your home, it helps to learn about the potential benefits of such an investment. Here are the most significant benefits of installing a brick walkway.
---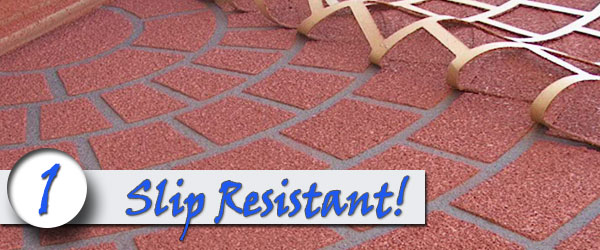 1. Brick sidewalks are slip resistant
Bricks usually have a rough texture, a factor that is crucial for safety since it reduces the risk of sliding. Bricks are, therefore, ideal for walkways, especially if there are stairs featured. Brick pavers are also a safety precaution against the dangers of wet surfaces. When installed in spa or swimming pool areas, bricks can reduce the likelihood of dangerous slips. This type of paving is also perfect because installation is quick and the sidewalk will be ready for use immediately.
---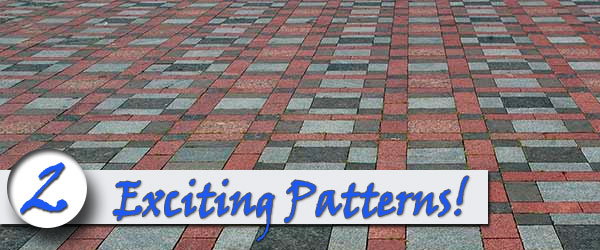 2. Brick sidewalks come in an array of exciting choices
Since brick pavers are available in many colors, shapes, patterns and sizes, a brick walkway is a great addition if you want to display your creative and imaginative side. Bricks are better than other paving materials, especially for design-conscious homeowners looking to have an attractive, easy to maintain, and cost-effective walkway. Regardless of your home's architectural style, you can achieve a dazzling finish with clay brick in orange, deep red, brown, or any other desirable color. Brick pavers can have a herringbone or cobbled design, a rustic look, or any other pattern that might lend an informal or formal style. You can also coordinate the type of brick used for your walkway with your patio or deck. You can check few our projects done in Chicago area under our sidewalk gallery.
---
3. Brick pavers rarely crack
Brick sidewalks can shift without breaking. The surface of the ground underneath your sidewalk might shift due to factors such as constant soil erosion. Bricks are versatile enough to adapt to the foundational movement that occurs when the ground moves and shifts. While sidewalk repairs are usually expensive, brick sidewalks will accommodate the ground beneath by shifting slightly. As a result, they are less likely to crack. If the brick shifts too much, you can maneuver it back into its proper position.
---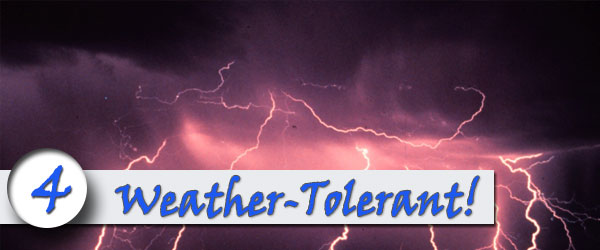 4. Brick sidewalks can tolerate weather extremes
Although the weather in Chicago can at times be brutal, brick sidewalks can easily tolerate extreme weather condition. Because you can install a brick walkway without fear of weather-related damage, brick is undoubtedly the best choice in Chicago. Brick pavers are weather resistance and do not deteriorate due to freeze-thaw cycles and can take every type of weather shift.
---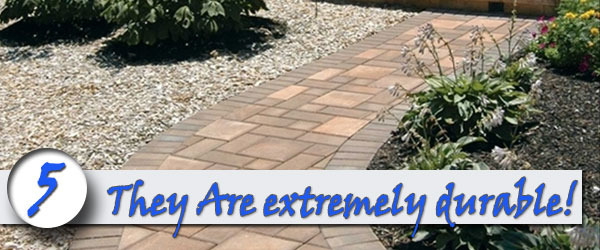 5. Brick sidewalks are extremely durable
Brick sidewalks are quite durable and can last for a very long time without needing repairs or replacement. Brick sidewalks can last up to three times as long as other paving options. Aside from being aesthetically pleasing, brick sidewalks are quite functional. Because bricks can withstand heavy loads and tremendous amounts of pressure, they will provide lasting results even when installed in high traffic areas. Compared to other walkways, it is a lot easier to remove snow from brick sidewalks.
---
6. Brick pavers are cost-effective
Although the initial installation might cost more than other paving materials, brick pavers offer significant cost savings on repairs. In fact, repairing a concrete or asphalt sidewalk often requires 10-30 time more than repairing a brick sidewalk. Considering how long brick pavers can last without needing replacement, this option will make up for the initial cost of installation. As such, bricks are a financially sound investment for your sidewalk.
---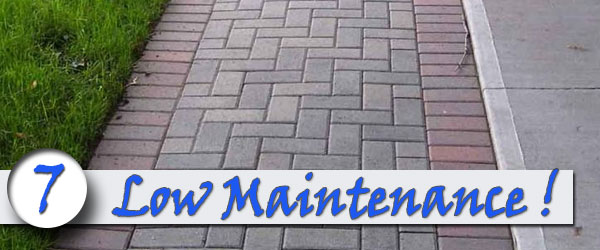 7. Brick sidewalks are low maintenance
If you consider the long-term cost implications of installing a sidewalk, interlocking brick pavers are undeniably the best choice. Aside from being more durable than almost every other material currently available, bricks require minimal maintenance. If your poured concrete sidewalk cracks, you will have to replace the entire driveway. On the other hand, it's easy to lift out a cracked or stained brick paver and replace it with another one. As such, repairing a brick walkway costs a fraction of what it costs to replace a concrete driveway. Compared to other sidewalk materials, the overall replacement and maintenance cost of a brick walkway is minimal.
---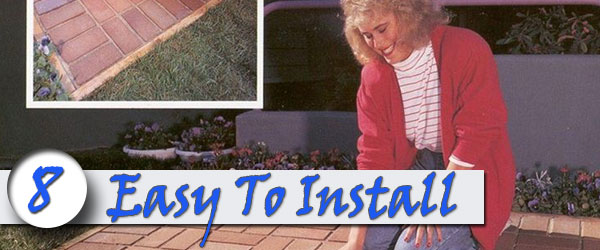 8. Brick sidewalks are easy to install
Another benefit of choosing a brick walkway is the room for error allowed when laying this paving. Improper installation can be corrected quickly. You simply need to move the brick into its proper position. During installation, factors such as a sudden rainstorm or the bounce of a child's ball will not ruin a brick walkway as easily as they would ruin other sidewalk projects. Because bricks offer an unmatched ease of installation, it is much easier to achieve high-quality and desirable results.
---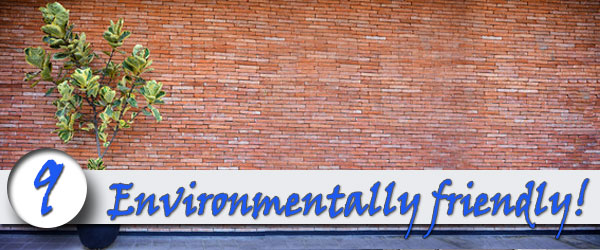 9. Environmentally friendly
Brick sidewalks are more eco-friendly than their counterparts. Thanks to the spaces between brick pavers, more rainwater will seep through into the soil, helping to reduce the formation of puddles and standing water around your home. Using bricks for your sidewalk is an environmentally wise choice since they are made from natural clay that has solidified into a compact form. Old and damaged bricks can be recycled and molded into new bricks. Also, since no color is added to the brick, your sidewalk will not bleach out in the sun or lose color over time.
---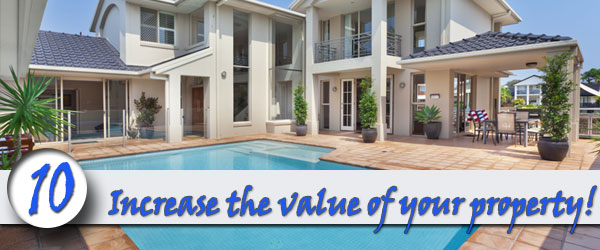 10. Brick sidewalks can increase the value of your property
Because brick pavers are available in a variety of colors, shapes, patterns and sizes, they offer freedom of design. As such, you can apply your creativity and come up with an aesthetically appealing addition to your property. The functional and aesthetic nature of a brick walkway will add to the value of your property. If you are thinking of putting your property up for sale, a brick walkway might make it much more attractive to prospective buyers.
---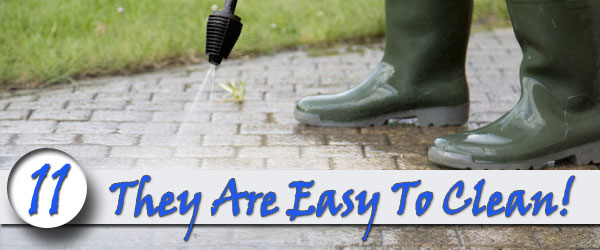 11. Brick sidewalks are easy to clean
The process of cleaning a brick walkway is a lot easier than that of any other paving, some of which are prone to stains and irreversible damage. All you need to clean your brick walkway is some water, a little detergent, and a scrub brush. You can also power-wash your brick paving. With proper maintenance, a good brick walkway will last for years.
If you are looking for a reputable Chicago-based company for your brick paving requirements, EuroPaving is your best choice. Aside from sidewalks and driveways, we also specialize in retaining walls and patios. As professional and experienced experts, we always give high-quality and desirable results. If you want to install an appealing sidewalk, contact EuroPaving as soon as you can to learn more about our services. Contact us for a free estimate and any other information regarding brick sidewalks. We are brick paving sidewalks experts in Chicago area and small cities in 50-100 miles range from Addison, IL.
If you are convinced than click here to get a free estimate or call me at (773)988-2353 (ask for Wojtek)