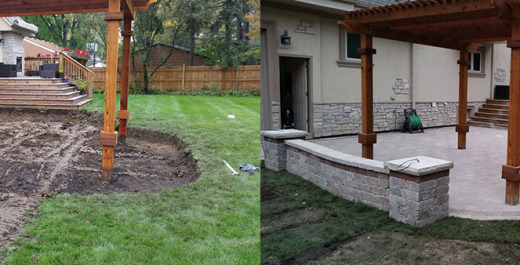 Since 2006, our authorized Unilock technicians have been providing Skokie, Illinois's residents with high-quality a brick paving solutions at a low rate. From sidewalks and driveways to retaining walls, we've done it all with your needs in mind. You can always count on our crews to provide you with the best materials on the market at a great price.
Increase your property value
Are you looking for a quick, affordable way to increase the value of your home? Are you looking forward to making your neighbors jealous? If you answered yes to either of these questions, we're here to help you. Our brick paving services can significantly raise the value of your home while making your neighborhood green with envy. Brick paving driveways and sidewalks are GUARANTEED to enhance your property and draw in the attention of everyone who passes by.
Our brick paving services include:
Brick paving patios
Brick paving driveways
Brick paving sidewalks
Retaining walls
Sealer coating
Save time and money
Are you wanting to enhance your outdoor lounging area or parking space without having to worry about maintenance? If you found yourself nodding your head, brick paving is the perfect fit for you. Brick paving is much easier to maintain than asphalt or concrete and is designed to last for years. Concrete and asphalt need constant upkeep and repairs, but brick paving can last for years without needing a touch up.
The benefits of brick paving:
Adds tremendous curb appeal
Easier to maintain
Great for outdoor lounging
Highly affordable
Showcases your property
Your satisfaction matters
There's nothing more important to our teams than seeing you satisfied with the results. If you're not happy with our work, neither are we. That means we won't stop working until you're pleased with the way things look. From your driveway to your patio, there's no project we can't handle. We can even provide you with sealer coating services at a low rate. Don't waste your time and money on a company that doesn't care about your needs. Come to us to experience total satisfaction on every project.
We refuse to cut corners
When you come to us, we'll get you started with a quote to ensure you know what you're getting into. We'll be sure to include the cost of materials, labor, and installation so that you're not hit with charges you didn't expect. We'll work closely with you to make sure we're meeting your style and budget needs with ease and precision. Whether you want a new brick driveway or a beautiful patio to use for entertainment, we've got you covered. You can always expect the best from our crews. Cutting corners isn't in our vocabulary.
Get in touch with us now
It's time for you to get the brick paving services you need at a rate you can afford in Skokie, Illinois. Give us a call now to schedule an appointment.