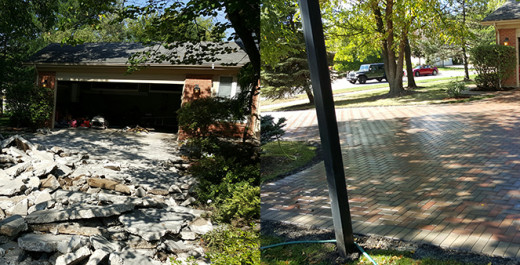 Have you been living in your house for years, and your driveway has started to crack? Have holes started forming on your back porch? There are many options when it comes to re-paving. You could choose asphalt, concrete or brick paving. Concrete and asphalt are both cheaper solutions, but they are easily cracked and are more susceptible to extreme weather. Brick Paving, on the other hand, costs a bit more, but is the most economical and wise choice in the long term.
Finding the right home improvement company can take a lot of time, effort and money. But it doesn't have to. Whether its sidewalks, back yards or that new front porch, if you are in need of brick paving services look no further than Euro Paving, located in Roselle, IL. We here at Euro Paving have been in the brick paving market since 2006. Our location in Roselle, Illinois is the best brick paving company in the entire city. We are both fully insured and have an extremely professional and friendly staff.
Euro Paving believes in using only the highest quality products. We will never use cheap products because we know that while the short term benefit of less costly material might seem like a good idea, the end result will be both a disappointment and a financial burden in the long term. Instead, we use higher quality products that are more durable, longer lasting and better looking. This means a highly satisfied customer in the short term and less maintenance expenses in the long term. Euro Paving ensures the use of the finest materials from our leading supplier Unilock and a lifetime guarantee on all materials.
Euro Paving has been in the business for nearly a decade, so you know the experience is real. They know this business and they know how what they are doing, so much so that they were recently featured on the show HouseSmarts. As shown on the show, the best part about brick paving is the variety. Many patterns and choices are available to give your home that unique and classy look that only a brick pavement can give. Also, with some sealing, you will never have to worry about weeds growing between your bricks.
Maintenance is super simple will brick paving. Sweeping weekly will keep your bricks clean and looking brand new. Wash away dirt and grime with a normal garden hose. A little detergent and water can get rid of stains. And by adding a little sealant every couple of years will keep your bricks looking brand new.
Choosing Euro Paving not only means you are picking quality products, it means you are picking quality customer service as well. The team is very professional, and is always ready answer any questions you might have. That level of customer attention is what makes us the best in the market.
So if you are in the market, give Euro Paving in Roselle a call today! The staff will be more than happy to answer your questions and set you up for an estimate.