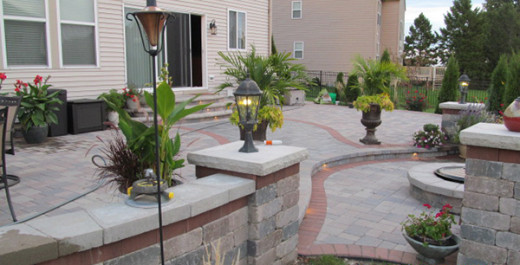 If you live in Libertyville, IL and you're looking for a new look of the exterior surfaces of your home, you might want to think about brick paving. Brick paving makes an elegant alternative to typical surface treatments like asphalt and concrete. Brick paving uses specialized bricks to cover walking or driving surfaces like driveways and sidewalks. However, you can use this process for more than brick paving driveways or brick paving sidewalks. You can also brick pave patios, swimming pool surrounds and retaining walls for a unified look for your home. Euro Paving stands ready to make your home into showplace you've always dreamed of and the envy of your neighbors. Euro Paving also offers sealer coating for your driveways and sidewalks to keep them stain free as well as stain resistant and looking new for years to come.
The people at Euro Paving, an authorized Unilock dealer stand ready to guide you on how you can use paving bricks around your home making it more beautiful and perhaps even increase the value of your home. Euro Paving is a premier brick paving company in Libertyville, IL and the first place you should call to see if brick paving is for your home. Look at our gallery here on our website to see what we have done for other clients and imagine what we can do for you.
Deciding to use brick on the exterior surfaces of your home is just the first step. The project must be designed and implemented by a company that knows the right way to do things. The right company will know how to correctly install the bricks for durability, safety, and beauty. The right company will have experience and Euro Paving has been doing brick paving since 2006 and we have the testimonials of satisfied customers to share with you to back up our word. The right company will know the correct materials to use and what quantities to make the job come out the way you envision.
Brick paving is also a good choice for commercial applications such as restaurants, hospitals, and hotels. The high quality appeal of brick is almost universal and can transform the appearance of any location from run of the mill to drop dead gorgeous. The cost depends on materials used and the area to be covered, but the upgraded appearance makes the expense well worth it.
While paving bricks might be available in a home improvement store, allowing a professional to do the job right, will generally result in the best finished project. Professional brick installers, like the ones at Euro Paving, have the experience to do the job right the first time. Professional brick installers know which brick to use in what location to enhance the appearance of your home or business. At Euro Paving, we have such professionals waiting for your call or take a moment to look at our gallery and see if Euro Paving is the right brick paving company for you.