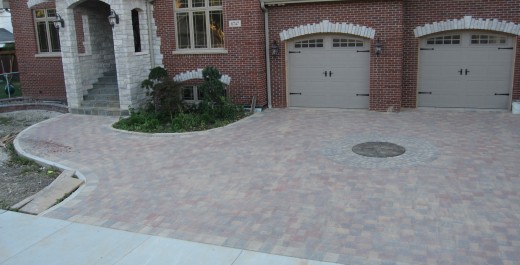 Brick is a beautiful and traditional building material that is associated with homes that are constructed with quality and care. Whether your home is made of brick or not, paving the surfaces around your home with brick can add curb appeal, style and beauty. Quality details add to the curb appeal of your home, and this may translate into an increased property value when you choose brick paving service in Hillside.
Decorative Patterns
Sidewalks and driveways are broad expanses of concrete or asphalt with no character or style; brick paving can add interest, color and durability to your home's exterior. There are many decorative ways in which bricks can be used; their small size and simple shape makes the options nearly unlimited. Many types of traditional patterns, such as herringbone, basket weave or running bond can add an intriguing look to surfaces that were previously adding no value to the curb appeal of your home. Brick is not only available in red; a variety of colors are available to coordinate with the existing decor of your home and provide a look that will enhance your home's structure and landscaping.
Additional Hardscape
Brick can also be used to add additional elements to your home to tie your paved surfaces together with other elements of hardscape on your property. Elements such as driveway pillars, brick stairs, pool decks or garden borders will add charm to your home and garden. Extending your brick-paved driveway by lining the walk and stairs to your front door with brick is a simple and sophisticated touch. Extending brick pathways into your garden or backyard will add structural design to your landscape that will define it with a professional look and feel.
Professional Installation
Although bricks are a simple element that can be purchased and installed by a homeowner, there is a great deal of skill and expertise that is required to properly install bricks. It is imperative that the foundation for the bricks be strong, level and provide good drainage. A professional installation requires a thorough knowledge of the materials, appropriate underlayment and optimum drainage requirements. Brick paving that is installed without professional knowledge may sink, buckle, pool water and grow weeds in between the bricks. Amateur brick paving may also become a tripping hazard for guests if the bricks are unlevel and the surface is not safe, solid and firm. Brick paving can add value to your home, but if it is poorly installed, it will not enhance your home.
Professional Design
A professional design is also important for your project. Whenever it's a driveway, patio, sidewalks or retaining walls – simple it must look good. The finished edges, the flow of the design into other structural elements and the overall aesthetic it adds to your home should be polished and unique. Your brick paving design should also accentuate the architectural elements of your home rather than compete with them. The experience and skill of a professional will make a tangible difference in how your brick paving project enhances your home.
An Appealing Element
Although brick paving may not be on the list of a prospective home buyer as a must-have item, the beauty of quality brick paving service Hillside, Illinois will appeal to the emotions of many home buyers. A concrete or asphalt surface provides a solid, safe surface, but brick adds that extra element of beauty that will give your home the edge over other comparable homes when it is on the market. Small details can make the difference when it comes to selling your home, and a beautifully maintained property with elegant brick paving may allow you to list your home for a higher price and put your home at the top of many prospective home buyer's lists.
What is more, based on Zillow reviews it does matter, it means less dust and mud in the garage. But can be a problem in a snow-country..


Please contact us today for an estimate for professional brick laying service in Hillside and Chicago Area. Our skills and experience will provide you with a beautiful brick hardscape that will enhance your home for many years.