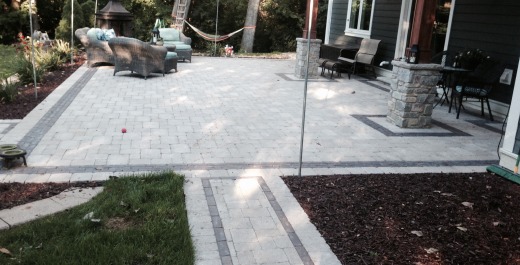 When maintaining one's home, it is always important for the owner of the property to look over every aspect of their premises. Their home is one of the most valuable assets owned, and it is their greatest responsibility to properly maintain their home, landscaping, and everything within their property's boundaries.
One of the most valuable aspects of a home's property is the concrete paving that is either within the house, or outside around it. The sidewalks and driveways that surrounds a home says a lot about the property on its own. For instance, a evenly paved road can be a sign of the home having good balance in its infrastructural landscaping. Many homes will begin to fall apart due to uneven roads and landscaping.
Euro Paving specializes in
Patios
Driveways
Sidewalks
Retaining Walls
Sealer Coating
Whether one is aware of it or not, their home's exteriors have just as much of an effect on the home's value as the interiors does. The contributing factor is based on the appeal it gives off to neighbors, community visitors, and the residents themselves. When choosing a paving company, it is going to be in their best interest to do an adequate amount of research on the companies that offer the services they need. Brick paving patios are no easy job, and it takes the most skilled to do the job.
As many choose to implement retaining walls within their homes, they may not be aware of the effect they have on the property's value either. All of the home's makeup contributors have a factor in the overall value. However, many people are not provided with the proper resources for attaining such levels of "excellence", as some may claim, or even perceive it to be.
A good paving company will know just how much concrete to use and how long the job will take prior to actually putting "hands-on" the specific tasks and projects. A quick quote can be given to the client if that is what they choose to acquire. Quotes are quite accurate, as the professionals of Brick Paving in Highland Park are well acquainted with the job, and everything it requires.
We know that choosing a dependable company is important to achieving peace of mind. Without the comfort of knowing that our acquired services are trustworthy and dependable, we would never have the courage to seek the help that we need. By choosing a group of professionals that take great care and pride in the properties they deal with, the client(s) can be assured of seeing ultimate happiness when all is said and done.
Brick paving around a home can be installed in many different shapes, designs, colors, and material. Many of today's residential and business owners are choosing different types of marble and rock floors. These options are only available through the most trained companies, as they have the proper tools necessary for precision cutting and distribution.