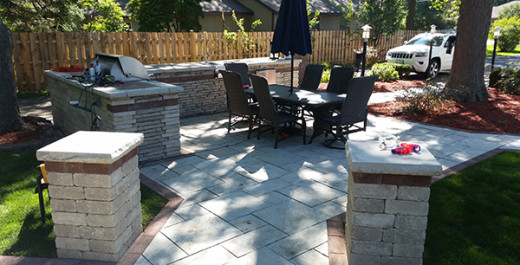 Living in the Grayslake, IL area has advantages and disadvantages for homeowners, businesses, and landscapers. When it comes to efforts to keep a property maintained, one of the disadvantages is the changing weather. Property owners face a number of issues when it comes to driveways, patios, sidewalks, and erosion due to these weather changes. The professionals at Europaving.com have all of the brick paving answers to all of these landscaping concerns.
Euro Paving has been professionally installing brick paving patios, brick paving driveways, brick paving sidewalks, and retaining walls since 2006 in the Grayslake, IL area. They are a professional, proud, knowledgeable, and skilled team of workers. They focus from planning and design to the finishing touches on each custom cut brick. Euro Paving is a Unilock authorized dealer and they only work with the very top of the line supplies and with a guarantee on all materials. These superior products come in a variety of choices including the colors. The expert designers will help to design the perfect plans for all of your paving needs with a fair and honest free quote.
In the cold winter months the snow is an issue. Shoveling a gravel driveway is like pushing rocks around in the yard. Blacktop buckles and cracks causing you to impale yourself on the handle of the shovel when it hits that spot on the ground. Cement sidewalks, driveways, and patios can cause a problem when they expand and contract. However, brick paving driveways, patios, and sidewalks result in a smooth even surface. Finish with a seal coater to further enhance the beauty and longevity of the pavers.
In the spring the excessive moisture can cause problems. When the yard is being washed away, call on a professional to install retaining walls where needed. These landscape enhancing additions add visual beauty to the area often creating a second level to the area that can be utilized for such focal things as flower beds. The melting of the snow and falling rain often cause flooding to occur. Brick paving patios, sidewalks, and driveways allows for this excess moisture to escape quickly from the area.
In the summer the heat may be a factor. It often causes cement and other construction materials to buckle and crack. When brick paving sidewalks, the repair to any change in the earth can easily be fixed by the simple replacement of a few bricks verses a whole slab of concrete or an ugly patch job on a blacktop surface.
In the fall, the falling leaves and mixed weather can cause headaches. Landscapes that have brick paving patios, driveways, and sidewalks are easier to maintain. This beautiful and smooth surface is perfect for easy sweeping or blowing of leaves and debris.
Paving a property's landscape with decorative brick instantly increases the beauty and value of a home. The professionals at Europaving.com are standing by and enthusiastic to help you get your landscape ready for whatever type of weather that Grayslake, IL has to dish out.