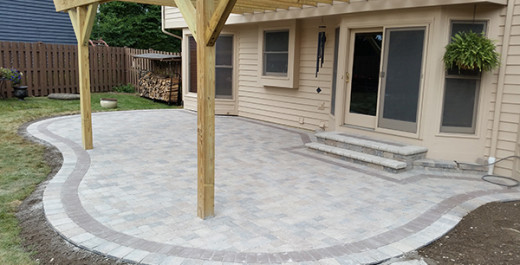 Brick paving is a beautiful form of decoration for the exterior of your home. Traditional cement and asphalt paving does not produce the classy and sophisticated look that you are going for, but brick paving is elegant in every respect. Our Unilock authorized services allow you to transform the outside of your home into a classic beauty. Euro Paving provides the following services in Downers Grove, IL.
Brick Driveways
Your driveway is visible to everyone who comes by your house. Neighbors can see your driveway from their own homes, and passers by can see your driveway from their vehicles. Brick paving driveways is a great way to make them more beautiful. Your driveway will look like the finish line in Indianapolis, and everyone driving by will notice the stark difference between your home and others. Bricks come in any color you choose, and the bricks are arranged in a pattern of your choosing.
Brick Patios
Brick patios help change your backyard into a wonderland of color and texture. Brick patios contain beautiful patterns and bricks of varying shapes. The patio itself can be any shape you want, and the old patio can be removed before installation. A brick patio is much easier to clean, and the brick provides a nice contrast to the otherwise normal appearance of your backyard. Juxtaposing brick onto a green lawn is a lovely way to create beauty in your backyard.
Brick Sidewalks
Brick sidewalks can transform neighborhoods all over Downer's Grove, or you can include a new brick sidewalk around your home. Brick sidewalks can come in any color you prefer, and the sidewalks are sunk deep into the ground. The sidewalks are designed to last for decades, and the bricks are made from materials that are much easier to clean. A brick sidewalk improves home values all over your community, or you can use brick walkways to improve the value of your home.
Retaining Walls
Retaining walls are needed along driveways and underground portions of your home. A traditional retaining wall may be constructed of wood beams, but these beams will rot over time. Using brick to construct a retaining wall is a much better use of your resources. Bricks do not fall apart with age, and they will allow for a fair amount of runoff.
Coating And Sealants
Coating and sealants for all brick surfaces must be sealed and coated at least once a year. Routinely adding a sealant to the bricks allows them to maintain their color during the year. The harsh winters in the Chicagoland area cause bricks to get very dirty, and bricks will lose their color during the winter if they are not sealed. Sealants and coatings are painted on by professionals who understand how to apply these products quickly. You may schedule coating and sealant appointments at any time, or you may schedule yearly appointments in advance.
Swift Service
Our Unilock authorized services happen quickly when we show up for appointments. We understand that your time is valuable, and we prefer to give you the beautiful brick designs you want in short periods of time. Each job is different, and we ensure that your work is done in a timely manner. Please ask us for a timeline for each project, and we will adhere to that timeline as best we can.
The creation of brick designs around your home and community contributes to the beauty and value of your home and community. Brick sidewalks make the neighborhood look nicer, and brick landscapes at your house make your home instantly more valuable. Contact us for more information about brick designs, projects and maintenance.