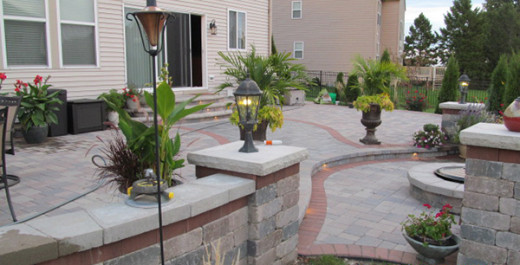 The exterior surfaces of your property are just as important as the interior of your home when determining its value. Paving has come a long way in the last few decades, as new techniques mimic the look of stone, colors can be incorporated into concrete and textured surfaces can provide a stylized look to your property in Burbank.
Since 2006, EuroPaving has provided the expertise and knowledge to give you superior brick paving services that will not only make your property look good, but will make it look stunning. As a Unilock authorized contractor, we offer you quality products, superior technology and outstanding design that will enhance the quality of your landscape and your home. What's more is we also give you a lifetime guarantee on all materials so that you are assured of a brick paver installation that will look great for years to come.
We can enhance your landscape through a variety of different projects such as driveways, sidewalks, patios and retaining walls. Our consultants will work with you from initial planning through design concept, installation and post installation to ensure that you and your family are thoroughly satisfied with your brick paving products.
Brick pavers are ideal for the many different architectural styles found in Burbank. A range of surface finishes, from smooth to heavily textured and everything in between, are available, along with many different colors, shaping and laying patterns. These tightly fitted uniform units are placed over a sand bed and compacted to form a durable surface that is ready for immediate use. The final product is a beautiful new area that is immediately ready for use and is aesthetically more pleasing than simple concrete, yet costs about the same to install. Maintenance is simple too. Stained or broken pavers can be easily replaced and allow for easy access to utilities. They also allow for the frequent expansion and contraction that occurs in a Midwestern climate, avoiding surface cracks.
Call or email EuroPaving today to set up an appointment for your consultation and your free quote to make your Burbank home stand out from the rest.