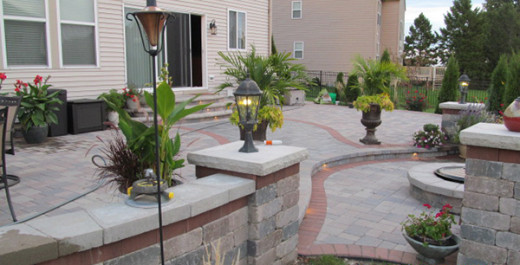 When it comes to brick paving in Buffalo Grove, Illinois, no one knows what you need better than our team. From retaining walls to driveways and patios, there's nothing our experts can't handle. Whether you want to increase your property value or create a beautiful foundation for your hidden oasis, we've got you covered.
Don't waste your time
The last thing you need to do is waste your time with a company who doesn't care about your unique needs. When you come to us for brick paving services, you're GUARANTEED to feel like you've made the right choice. We'll work closely with you on every project to ensure your needs are met. All you have to do is brick your brick paving ideas to us, and we'll bring them to life in no time. Whether you want to add on to your driveway or install a sidewalks, we're here to help.
Our budget-friendly services include:
Patios
Driveways
Sidewalks
Retaining walls
Sealer coating
In business since 2006
For almost a decade we've been providing you with everything from sidewalks to driveways. Our brick paving teams are authorized by Unilock and offer you a lifetime GUARANTEE on all materials. That means you can expect high-quality work from us with the best materials and most competitive rates around.
Quality matters
You never have to worry about sub par materials when you choose us to handle your brick paving project. We're proud to say that we use the highest quality of materials on the market to ensure you get the best results possible. Everyone who passes by your home is sure to want what you have. Let us help you give your neighbors something to talk about.
Drive up the value of your property
Are you getting ready to sell your home? Are you looking for quick, cost-effective ways to increase the value of your home without shelling out a ton of money? If you answered yes to either of these questions, you're in the right place. Our brick paving services will greatly increase the overall value of your home while giving you something beautiful to marvel at. Not only is our service affordable, but it's GUARANTEED to last long after you've left this planet.
Experience total satisfaction
Our man goal is to leave you feeling satisfied with your brick paving services. That means we won't leave your home until you feel that everything you need has been provided. We'll work diligently to ensure your new driveway, patio, or sidewalk looks exactly how you wanted. We're not happy with our work until you are.
We want to hear from you
It's time for you to get the high-quality brick paving services you've been dreaming about. Give us a call now for more information or to schedule an appointment. Feel free to ask our friendly representative any questions you may have. We're eagerly waiting to assist you. All you have to do is pick up the phone to get the ball rolling.