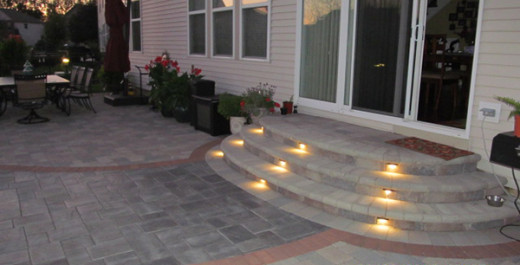 If you're searching for top-notch brick paving service in Bloomingdale, Illinois, you can halt your mission right now. EuroPaving is a reliable company that focuses on brick paving services. Our team is composed of brick paving experts who can make all of your property's paving needs come true, no exaggeration.
In business since 2006, our company has authorization from Unilock, a highly reputable company that produces concrete pavers. At EuroPaving, we employ only the best materials from Unilock, which proudly serves as our number one supply source.
Our company's available services are plentiful. These available services and specialties include brick paving of driveways, brick paving of patios, brick paving of sidewalks, sealer coating and retaining walls. We can successfully take on many projects for you. If you're sesrching for brick paving for a driveway, our service can make your residence look much more attractive and inviting from the street. If you're searching for patio brick paving assistance, our service can provide you with multi or raised level patios, complete with sturdy seat walls.
This can be ideal if you enjoy lounging outdoors on the warmest spring and summer days of the year. If you turn to us for brick paving for walkways, you'll adore how pleasant the path to your residence becomes. We can even help you make a brand new path. Retaining of walls is yet another of EuroPaving's specialties. Retaining walls can be a strong option for people who don't want concrete or railroad ties, for example.
Pavers can go a long way in making the outside of your residence look beautiful and neat. Since the EuroPaving team consists of professionals highly seasoned in paver restoration, we possess the talent and expertise necessary to defend brand new pavers and restore tired and old ones. Ask us about paver sealers that can be beneficial both for defending against potential stains and stopping unsightly fading due to excessive sun exposure.
Our valued customers often appreciate brick as a material because keeping it in good condition is generally a lot easier than doing do with asphalt. If you don't want to have to worry too much about maintenance, then brick paving might just be a strong choice for your property. Our customers also often appreciate the diversity of brick. Our brick is available in many exciting patterns, styles and colors. When you work with EuroPaving on a brick paving project, you have the luxury and convenience of being able to choose from a variety of brick options that work perfectly for the look of your property. You never have to settle for anything less than ideal.
When it comes to brick paving, we undoubtedly know our stuff here at EuroPaving. If the idea of pavers sounds smart to you, call us today for more details or to get a 100 percent free estimate for your desired service or services. If you're a Bloomingdale, Illinois resident who is looking to jazz up your home exterior, EuroPaving is on the job. Call us ASAP for more information on our superior brick paving service.