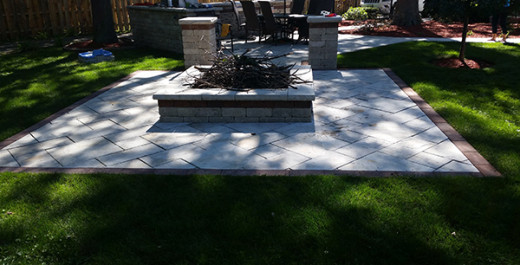 When you need brick paving services in Bartlett, IL, look no further than us here at Euro Paving. We have been providing our services since 2006 so customers know that when they turn to us, they are getting quality work done. In particular, we specialize in driveways, patios, and brick paving sidewalks. We also provide sealer coating and retaining walls services as well. With us in your corner, you won't go wrong.
Here at Euro Paving, we only use the finest materials. That's because we feel these materials really do affect the end result of our paving services. If you use materials that are cheap, you'll be disappointed with the outcome of your paving. That's why with us, you are getting top-of-the-line materials so that your paving stays pristine for the long haul. In fact, Unilock is our leading supplier. We are authorized by them so that means we're able to offer a lifetime guarantee on all the materials we use.
However, customers don't just come to us for the product we can achieve. Instead, we are also a highly sought out company because of our experience in this field. As noted, we have been providing brick paving services for close to ten years. Throughout this time, we have seen exactly what measures and practices get the best results. We have also learned what customers typically like and what leaves them in a fret. When you connect with us, you can breathe easy that you're in trusted hands. You will get the paving you want.
Other than our experience, we also have a reputation in the brick paving industry for our expertise. We truly are experts in this field. All of our staff members are very knowledgeable when it comes to brick paving. We can tell you what goes into this process as well as what you can do to help keep your bricks in top shape. If you have any questions, comments or concerns, don't hesitate to let us know. We are here to help you through this ordeal.
Of course another reason why our customers come to us for their brick paving services is that we offer a type of customer service they can count on. When you do business with us, you know that you are being valued. Here, we really do appreciate our customers and are very thankful that you came to us over our competitors. Thanks to this, we have main it our main goal to please you and provide you with professional brick paving services. With us, you will never feel that you're being blown off. Instead, we are always here to address any issues.
It's clear that when you're on the hunt for brick paving in Bartlett, IL, you have to give us a call. Whether you're looking for brick paving patios or brick paving driveways, we here at Euro Paving want to serve you. It is our mission to get your home looking better than ever before so get in touch with us right now.