By Chicago Pavers
Comments None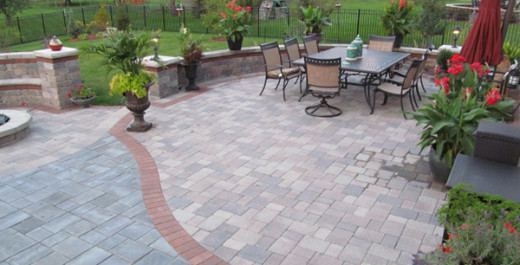 Making the decision to have a new patio built takes a lot of thought and careful planning. What kind of patio will you have? What colors will it be? Who will build it for you? How much can you afford to spend? These are all questions that you need to consider before you hire someone and get involved in a project that you later realize is more than you anticipated. This is why you need to hire a company that will give you an affordable quote and still build you the beautiful brick patio that you deserve and truly want.
Choose the Style and Color That You Want
For people who are looking for Brick Patio Paving Chicago, deciding on just the right style, design, and colors for your new brick patio is easier than you can ever imagine. Whether you want red, or gray, or brown, we have a variety of styles and colors of bricks for you to choose from. This way, you can have a uniquely designed patio that all your neighbors, friends, and family will admire and envy you for.
Our trained sales professionals can help you design your patio with you. They can make suggestions that go along with your ideas so that you can have the perfect patio built. In addition, they will show you so that you will be pleased when you see it all completed. This helps to make sure that you have you are included in the planning and design process so that you will not be unhappy because you were not able to give any of your personal input into it.
Will it Be Expensive?
Many people think that brick patio cost are extreme and building a new brick deck will be very expensive. That is not necessarily true. By carefully choosing a reputable paving company who specializes in brick paving Chicago, you can make sure that you do not spend a fortune to have your new patio done. If you are on a budget, we can help you to save money while still having a fabulous looking brick patio.
Our paving experts will show you several types of bricks and patio designs that are inexpensive but will still look nice. We will help you to keep costs down while not skimping on quality and style. You will be able to have the patio that you want without breaking the bank. We guarantee that you will not be disappointed or have any regrets because you spent more than you wanted to.
Can I Trust My Contractor and Their Crew?
When you choose our company to handle your brick paving Chicago, you can be rest assured that you can trust our contractors and construction crew. If you want to know how to build a brick patio Our contractors are licensed and insured so that you will have the confidence that you are using a company that is legitimate and legal. Our contractors and crew are experienced in brick laying and paving. We also take out all of the necessary building permits that are required by both the city and the county.
We do not hire employees that have never had any experience with this type of construction work. Our team has years of experience in handling all types of brick paving jobs. We can handle both small and large projects. We will not do a haphazard job. We also do not just collect your money and never return. We will complete the job in a timely manner from start to finish.
There is meany companies in Chicago area like aztec brick paving other patio pavers companies but EuroPaving has best reviews on yelp. or We want all of our customers to be happy with the work that we do for them. We want them to be able to refer us to their friends and family. Customer service and satisfaction is the ultimate gal for our business. So, contact us today for an estimate on your new brick patio.
Our team also does work in hindsdale, hillside.
check our brick patio pictures